Laipson re-won the FMD series of Veterinary Drug Product Approval Number!
2023.10.13
---
In accordance with the relevant provisions of the regulations on the administration of veterinary drugs and the measures for the administration of the number of approval documents for veterinary drugs, the Ministry of Agriculture and Rural Affairs of China has recently reviewed, luoyang Laipson Information Technology Co. , Ltd. (hereinafter referred to as"Laipson") has officially obtained the approval number of veterinary drug products by the Ministry of Agriculture and rural areas.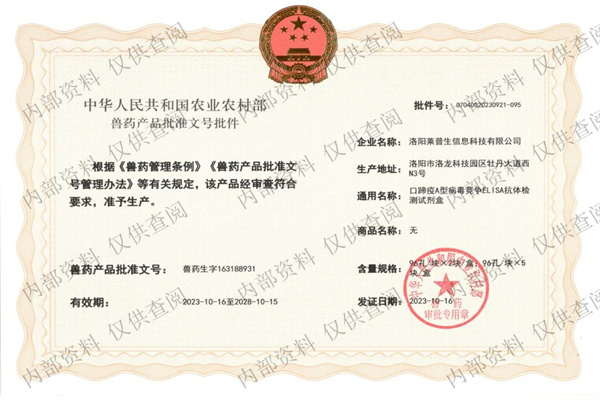 Foot-and-mouth disease (FMD) is an acute, febrile and highly contagious disease of pigs, cattle, sheep and other domestic and wild cloven-hoofed animals. There are more than 70 kinds of susceptible animals. The spread of the disease has many ways, the speed is fast, many times in the world outbreak epidemic, resulting in huge political and economic losses.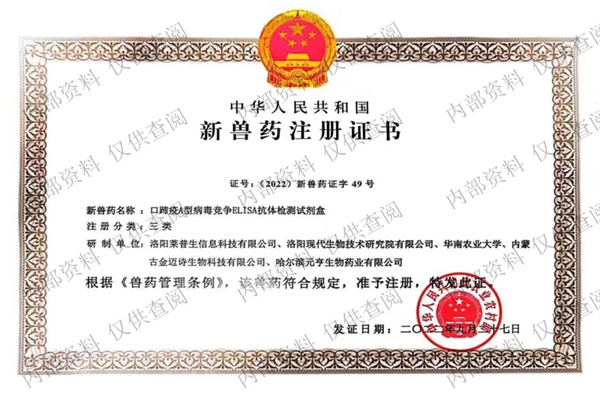 Laipson has obtained the National Veterinary Drug New Drug Registration Certificate 2.
---
PREV:
Laipson TPU Animal Cattle Sheep Ear Tag Delivery Site
NEXT:
2023 Laipson ear tag sales team-building activities in autumn